We can't believe it—2018 is finally here! As we come back from the holiday break, there's no better time than the present to start planning our goals for the next twelve months.
It's been a while since we've put our company goals out in the open for all to see. Nine years to be exact. Sheesh. But hey, the last time we share our goal list we got a great response. So we thought, "why not do it again?".
Goal 1: Work in new environments a couple days a week
We're a remote company. We've written about it a lot. We have folks in Atlanta, Tampa, Pensicola, Cardiff, and Lisbon. And we all enjoy being able to work from home and skip the daily commute/grind.
But things can get stale. The same environment over and over doesn't breed creativity. So this year, we're encouraging the 45royale team to get out of their ruts and routines and find a new place to work a couple days a week.
Leave the house. Try a new coffee shop. Work outside in the park. It doesn't matter—just do something different. A change of scenery is the quickest way to spark inspiration and creativity. We encourage you to try along with us.
Goal 2: Grow our community
In 2017, we saw an increase in traffic and traction to our blog. It started last May when we made a commitment to write at least one post per week. And—whad'ya know—we stuck to it. But it wasn't easy. The client work doesn't stop and you have to make the time or it won't happen. Plain and simple.
Last year we wrote twenty-one articles. That's the most we've done consecutively in a looong time. Here are some of the highlights:
We took on the mantra "teach what we know or want to know". Some of the articles came easy because of our experiences. Some articles we had to research because we were learning about topics for the first time. In both instances we learned something, and more importantly, shared something.
We want to continue on the "once a week" path, but we also want to kick it up a notch. Instead of our articles living in a vacuum, we need to do a better job of circulating them. We need to reach out to our community and ask for shares. We're not trying to toot our own horns, but we know some of these articles could benefit folks in our industry. We have some ideas on how to do that and we'll write more about it once we finalize our game plan.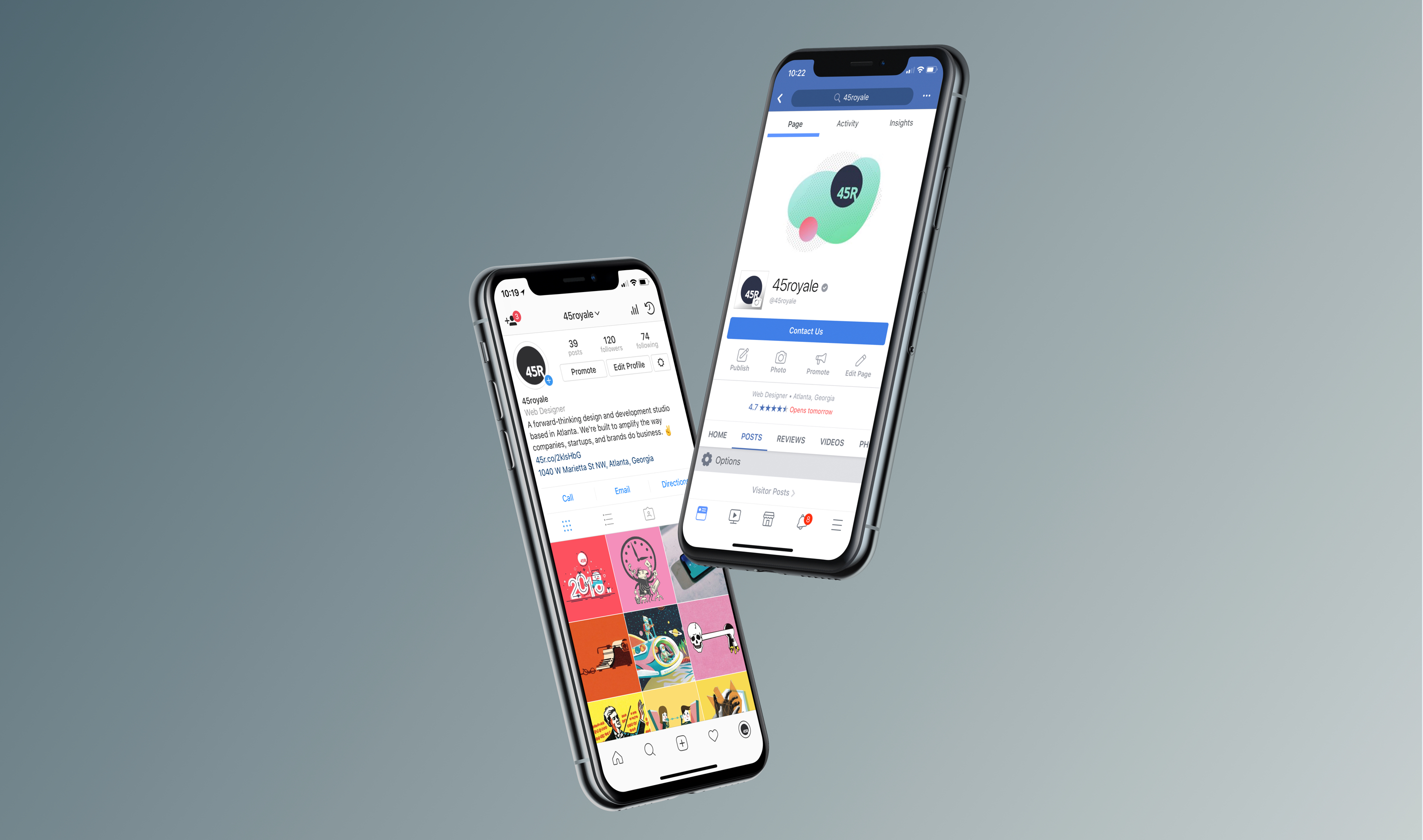 The floating socials. That's my new band name.
And finally, we want to get more social. We've seen a lot of new activity around our Instagram and Facebook accounts. I guess that's what happens when finally start posting there—go figure.
Right now our Instagram audience is a measly 120. Abysmal for a company with an Instagram account since 2014. As for Facebook, we're doing a little better but not great. We have 1,410 followers and some incredible reviews (so grateful to our clients). But we need to garner more attention around the work that we do and the content we create. We're aiming for a modest 25% growth on both social accounts in 2018. Stay tuned to see how we do, and feel free to help us reach our goal by following us on Instagram and Facebook!
Goal 3: Embrace new tools
Having the right tools is important in any industry. For a long time we've resisted making the leap over to new tech. But in 2017, we started making the transition to more modern design and development tools and we're doubling down this year.
Last year we formally made the switch from Photoshop to Sketch as our everyday UI tool. We still use Photoshop here and there, but the overwhelming majority of our production happens in Sketch.
But even that transition might be short lived as another app seems primed to make a huge impact on our work in 2018. Of course we're talking about InVision Studio.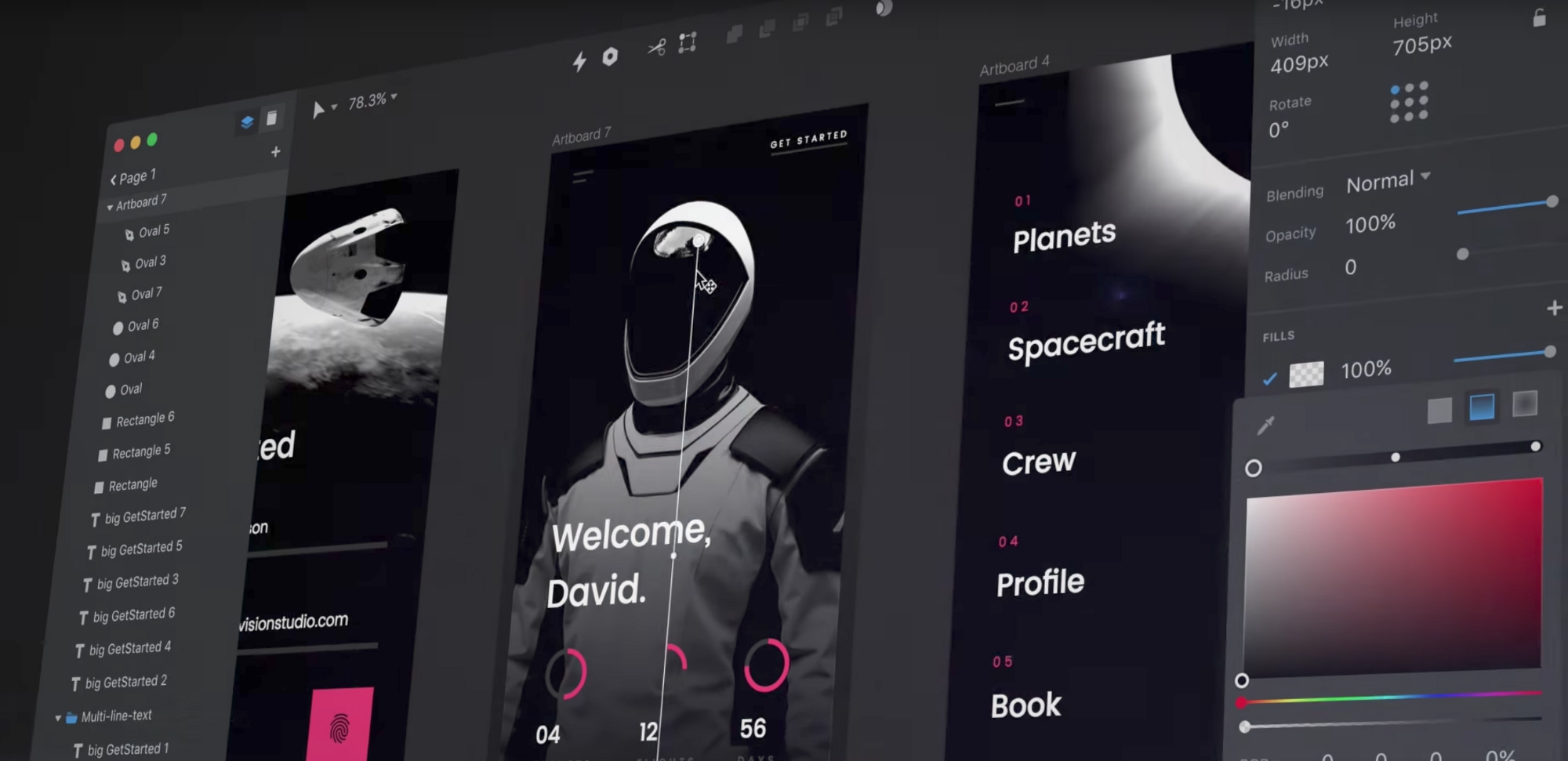 InVision Studio, coming early 2018
InVision Studio looks fresh, powerful, robust, and seems like it could be as close to an all-in-one production suite for people in our industry. We're keeping a keen eye on the progress and are hoping for an early invite to try things out. We're looking at you, Clark.
Goal 4: Ask for referrals
Over the years we've worked with a lot of great clients. And by building and cultivating those relationships, we've been fortunate to get a lot of new word-of-mouth business. But this year, we want to be a little more forward by directly asking clients for referrals.
At it's core, it's as simple as asking your existing client base if they know of anyone that could benefit from our services. Asking a satisfied client toward the end of a project for a referral is one of the best things you can do for your pipeline. It's a favorable and natural time for the client to evaluate your services and recommend a friend/colleague/whatever. If they don't know anyone, no problem. But like Wayne Gretzky says, "You miss 100% of the shots you don't take".
And finally, a couple teasers…
The first teaser is a big one. In fact, way too big for this article.. But it's worth mentioning because we're going to be actively work on this in the first quarter of 2018. We want to re-think our entire project process. From start to finish, we think we can do better.
We'll do a more in-depth article series when the time is right, but we'll be addressing everything from how we quote projects, to getting better requirements, to more favorable invoicing. There's an opportunity to streamline our process and make it easier on the clients as well as more advantageous for our business. Stay tuned, we'll have a lot more on this topic in the coming weeks.
We have also been working on a new design for 45royale. New site, new vibe, tons of work, and a bunch of content to share with our little piece of this web community. We're shooting for a March launch, so keep an eye on this space for more details! 🤘
Now it's your turn!
These are the high-level goals we'll be reaching for in 2018. Between them and success lie quite a bit of planning, a ton of to-dos, and daily execution. But we won't bore you with those—we're interested in what you're thinking about and planning for the new year.
Let us know what you're working towards this year in the comments so we can help hold each other accountable and reach our goals! Take care and all the best in 2018!