Foursquare
Bringing their message to the masses
Foursquare came to us looking to drive more user engagement through targeted emails. They wanted to segment their subscriber base and send more relevant and timely communication. We worked with their Marketing Department and VP to gather feedback and set a delivery plan in to action.
From there we created a responsive email templating structure that made customizing their messaging incredibly easy. With the foundation in place, we took our templates and integrated them in to their internal campaign management software for use on all platforms.
A year in to our engagement, Foursquare asked us for help in other facets of their business. We designed and built custom landing pages, illustrations, animations, and end of year round-up emails. For the past three years we have worked deeply with the Foursquare Marketing Team to improve their social campaigns by designing custom ads for Facebook, Twitter, and more.
"45royale works hard to get things right. Our latest campaigns have our highest Click Through Rates ever and we're seeing a 20%+ open rate."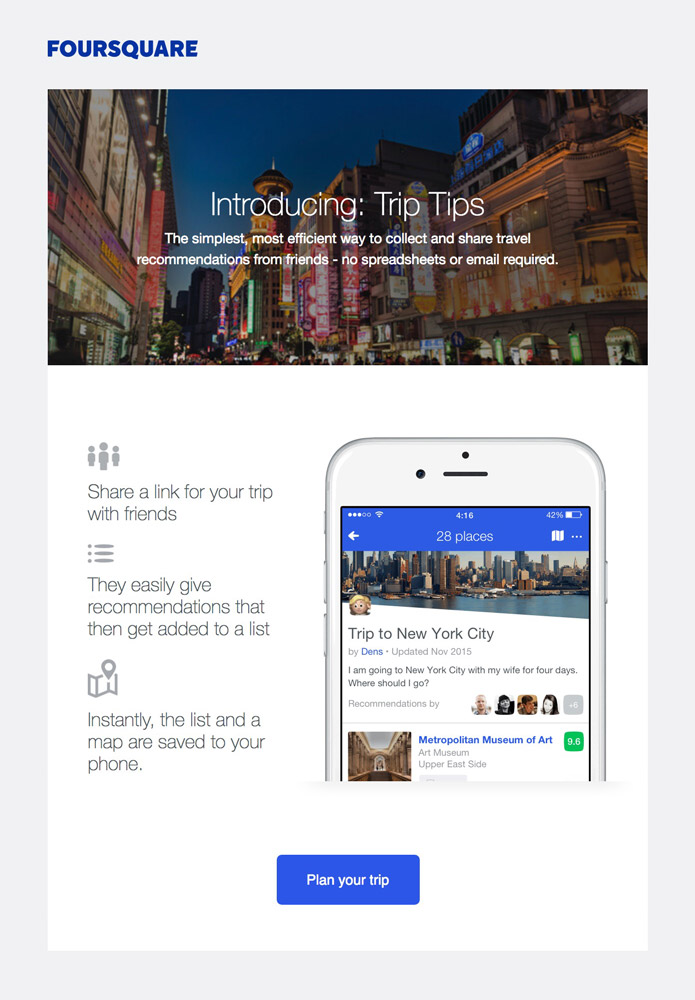 The impact
Sent to over 600,000 people each week
We've worked closely with Foursquare's Marketing team to make certain that the message we send is on brand and on topic.
We make sure that our emails are seen in the best light possible. Significant testing goes in to every email we create, build, and ship. Foursquare trusts that the design we come up with will look great in any inbox and on any screen.
Getting social
We worked with Foursquare to create custom illustration and design for their Facebook and Twitter ad campaigns. We even had one of our ads featured on Broadway in NYC.
foursquare.com