TooJay's
Industry-leading speed for a popular New York style deli chain
TooJay's, a successful restaurant chain with over 30 locations, was having a hard time finding a reliable development partner. They had gone through several agencies in the past few years and were approaching their wits' end. In early 2017 they reached out to us to help clean up the damage inflicted on their site from previous vendors.
It's always hard to step in to someone else's mess, but given our expertise with WordPress, we were able to quickly fix a lot of their issues. In fact, they were so relieved that they signed us to a monthly retainer right then and there.
For the rest of 2017, we teamed up with their Marketing department to help manage their online menus, promotions, and articles on a weekly basis.
After working for almost a year, TooJay's approached us to redesign their site from the ground up. With a tight deadline (they wanted to launch before their summer season), we had our work cut out for us. To make things more interesting, we had to do all this while still maintaining the existing site.
TooJay's has 30+ locations that are open 7 days a week—so having the site down for any reason was unacceptable.
We set up bi-weekly calls with all critical stakeholders to review business goals and objectives. We engaged and managed relationships with third-party vendors that handled online ordering, catering, and the TooJay's rewards programs. We upgraded their gift card system using WooCommerce and built a ground-up, customized solution using Moltin and the Stripe API.
We also managed their Google and Facebook ads, which are critical to their marketing efforts. Using Google Tag Manager we helped them get the data and insight they needed to measure the effectiveness of their ads.
We launched the new site in April of 2018, ahead of schedule for their summer launch. By focusing on their mobile experience and resource load times, we were able to shave five seconds off their home page load time. In fact, the site is now the fastest loading site in their industry according to Google. The site is also much easier for us to maintain on a monthly basis, which saves them time and money in the long run.
"The 45royale team is amazing to work with. As a restaurant company, we have specific timing needs and a lot of moving parts. They seamlessly handle everything and proactively make recommendations on how to improve the process going forward. They add great value to our brand and enhance the guest-facing experience as well as improve analytics and functionality. I highly recommend 45royale."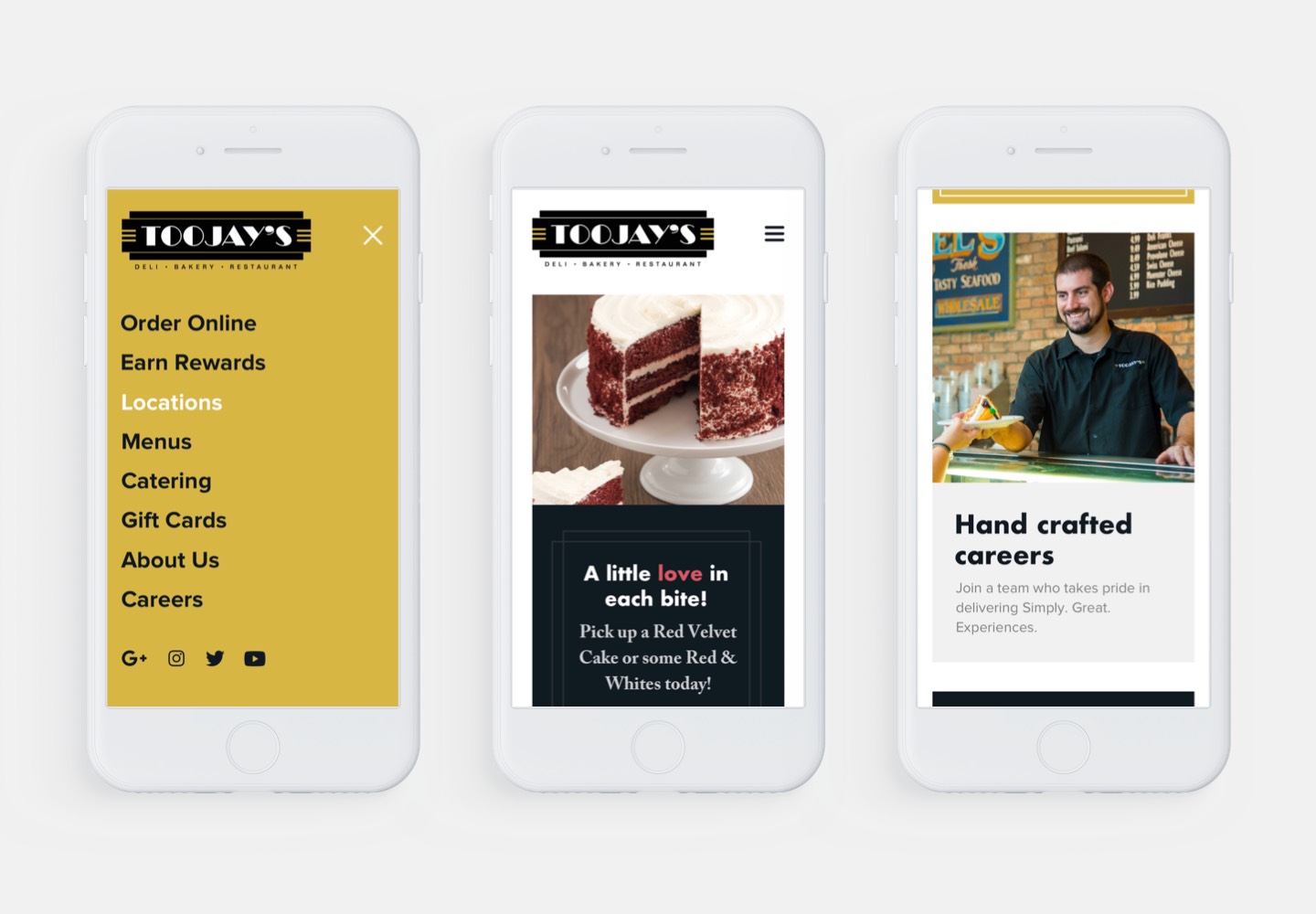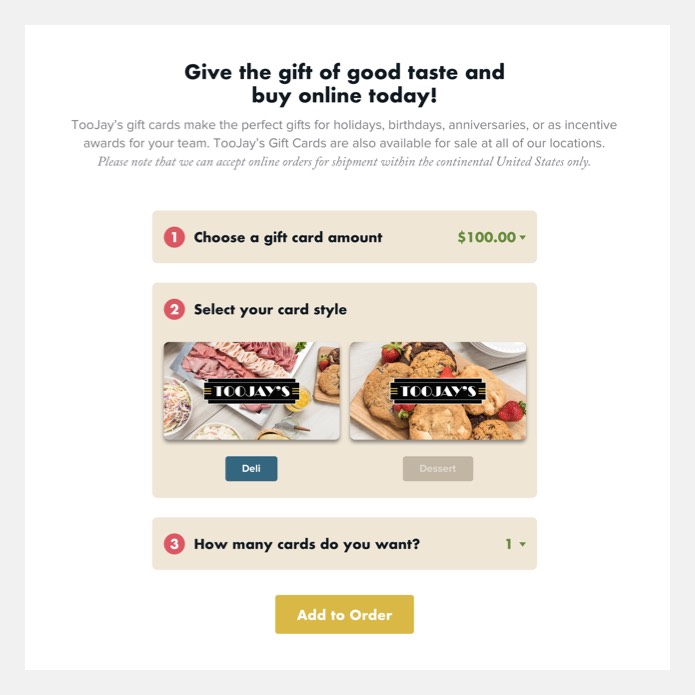 Setting the expectation
TooJay's has 30+ locations that are open 7 days a week—so having the site down for any reason was unacceptable.
toojays.com